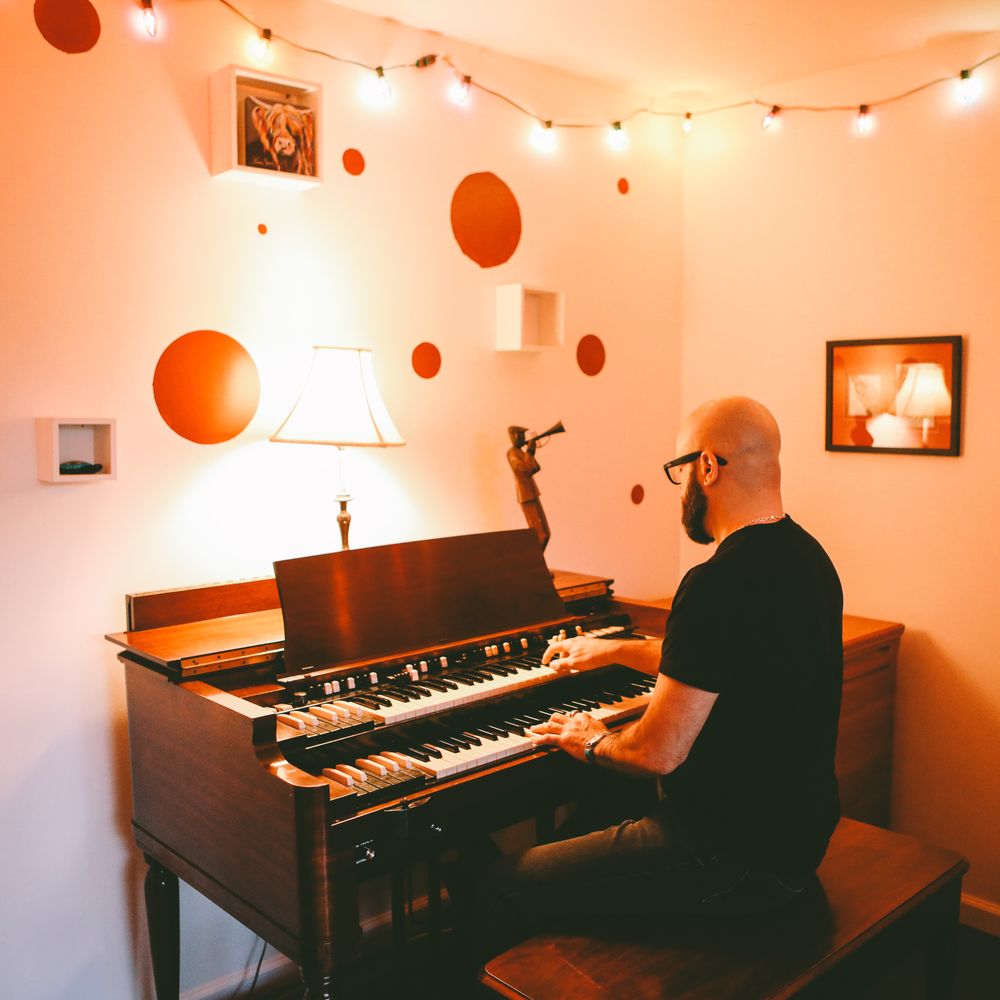 Born near Woodstock, New York, in 1971, Jeremy Baum began playing the piano at age five, and was playing classical piano recitals in his teens. He grew up listening to his parent's record collection, enjoying the music of the Beatles and Sly and the Family Stone, as well as the various Jazz Organ and R&B sounds of Jimmy Smith, Jimmy McGriff and Ray Charles. Jeremy studied Jazz at the State University of New York in New Paltz, and while there joined Murali Coryell's band (son of jazz-guitarist Larry Coryell.) In 1998, Jeremy earned his Masters degree in fine arts, and in that period studied briefly with organist Larry Goldings. Jeremy was soon leading his own organ trio and in 2002 released his first self produced album Lost River Jams on Flying Yak Records.
Jeremy's trio is rooted in the blues and funky soul-jazz sounds of the late 1960s (think Booker T. and the MG's, The Meters, Jimmy Smith!) His style is also informed by the current masters of the groove from the jam-band scene (Tedeschi Trucks Band, Oz Noy, Medeski Martin and Wood.) Jeremy has been playing festivals and jazz clubs in the New England region since the release of his first album. JB's Band was also featured on Boogaloo to McDuff, a tribute to Jack McDuff, available on Scufflin' Records.
Sideman Work:
Over the years Jeremy has been a successful side-man, doing freelance work for MANY different artists, touring or recording with Shemekia Copeland, Levon Helm, the North Mississippi Allstars, John Hammond Jr., The Official Blues Brothers Revue, Jim Weider, Melvin Sparks, Sue Foley, Debbie Davies, Gil Paris, Chris O'Leary, Vance Gilbert, Slam Allen, Murali Coryell, and many more (including the Bruce Springsteen approved tribute band 'Bruce in the USA') Jeremy was an original member as well as pianist, composer, and arranger for Sonando. He performed with the popular Hudson Valley based Latin band for over ten years (from 1997-2007) and they released the album Sueno Del Valle in 2003. He performed on MSNBC's Imus in the Morning show, playing piano for bluesman Little Sammy Davis, and he recorded with Richie Havens for the TV show The Practice. In 1999 he recorded a CD with Debbie Davies that featured Double Trouble (Stevie Ray-Vaughn's band). In the fall of 2000 he performed on the CBS Saturday Early Show with Jim Weider (The Band) and a song from Sue Foley's CD Ten Days in November appears in the Academy Award nominated movie You Can Count On Me. He also toured and recorded with soul-jazz legend Melvin Sparks, playing Hammond organ for his 2004 release It Is What It Is. In 2005 Jeremy began touring with blues singer Shemekia Copeland. With Shemekia, Jeremy performed in nearly every state in the USA, and in over 25 countries in Europe, North America, and Asia. They performed at Carnegie Hall, played countless music festivals, and made many television appearances including a performance on Late Night with David Letterman! Jeremy can be seen and heard on Shemekia's DVD On Stage At World Cafe Live.

Endorsements:
Jeremy is a featured artist endorsee on the Hammond USA website and uses the Hammond SK2 organ and Leslie 3300 Rotary Speaker. Jeremy also endorses Nord and plays a Nord Stage 3 Compact. 

Awards:
On May 4th, 2014 Jeremy Baum was officially recognized and inducted as a Master Blues Artist in the New York Blues Hall of Fame!